I should confess that I have a LOVE/HATE relationship with Target.  I know that sounds a little flighty, but I do.  I continually go to their "super" stores with good intentions and a definite list, yet come out with an entire cart full of items that I "need."  It's so easy to get sucked into the store for hours going aisle by aisle and thinking that you "need" additional items that were not on your list.  While each of us is working on a monthly budget, an unplanned trip to Target can quickly make us blow our monthly budget.  Here is why I have a LOVE/HATE relationship with Target: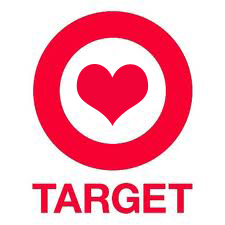 Why do I LOVE Target?  I LOVE Target because its the one store that honestly has everything – its the ultimate one-stop shop and now that they have added grocery store items into their super stores, it would be silly to make a trip to Target and the grocery store.   In a super store, you can buy all your health and beauty products, your grocery items, your electronics, your home goods and your clothing all under one roof.  Makes shopping a one-stop shop and its CONVENIENT to do it all at once!  I also LOVE the store because the company can buy their products wholesale which makes their prices a lot more affordable than your average convenience or grocery store.  Even a lot of their
generic items
have passed my tests and are now staples in my eyes.  Customer Service is generally a good process – I have returned numerous items to different local stores and never been questioned about the returns.  They just take my card, swipe it and give me my receipt.  No heckling, no arguments, no nothing – I should be clear though, all my returns have been "clean" returns.  Nothing opened, with receipt and within the return period.  If they have everything under one roof and have excellent customer service, how could you not LOVE this store?  Well…
Why do I equally HATE Target?  I HATE Target because I cannot get out of the store without just the items on my list!  Their product placement must be made specifically for me because I'm continually saying to myself," how did they know I forgot toothpaste?  Ahh yes, I did need to get new sponges."  It's all the random little stuff that just piles up in my cart and completely makes a quick, cheap trip to Target never the case.  These quick trips always end up with me blowing my monthly budget on household items and/or health and beauty products.  It's so easy to lose sight of what you actually came in for and you end up overspending very quickly.  I have three suggestions to minimize your trips to Target – stick to your list of items that you made prior to walking into the store, use the
30 Day Rule
for big items and try to only use the baskets because my philosophy is to only buy what you can carry.  (That will hopefully limit some outrageous spending on items that will not fit into the basket!)
Anyone else have a LOVE/HATE relationship with Target?  Any tips that you can share that will minimize expensive trips?