As I write this, I'm continuously playing an old Gillette Venus shaving commercial over and over again in my mind.  Why would anyone not want to be a goddess running down the beach with gorgeous legs and hot foreign men around you?  Seems like a silly question to ask, yet whenever I shave my legs I never see myself running down the beach or meeting up with any hot foreign men… Gillette's advertising is super though and while I stand in the shaving aisle at a major retail store, I think to myself that I should buy one of their razors.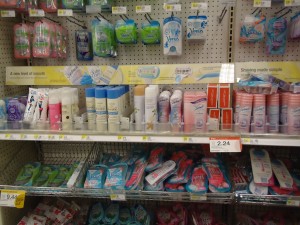 The truth is though, I hope you have done your own research.  And by research, I mean product research – the trial and error research that comes with constantly trying out which razor type works best for you and not buying based purely on marketing like I have done.  There are numerous different brands and types that you can try to figure out what works best for your needs and your budget! While I cannot attest to trying every brand and type that is out there, here is what my research determined…
I discovered that I was paying way too much for what my needs are.  I should be honest, I should probably shave my legs more (just ask E, he'll tell you that I need to do more product research!) but that is a post for another day.  What I realized was that all I need is something that takes the damn hair off my body and makes me actually silky smooth.  For years, I have been buying the Gillette Venus razors with the shaving cream build into the razor head because it was easy.  I'm not completely lazy but in the early morning without contacts, I could probably use the easiest possible solution to get me to shave my legs!  Have you ever price compared the other type of razors though?  I continuous stayed with the same brand for years out of habit.  I would spend about $20/month on these razors just for the detachable heads.  I even started to shave less just so I would not run through a package so quickly.  I started to realize that I was not budgeting for this "necessity" in my monthly budget at all.  If this was a place where I could cut back, then it was worth the trial and error research for a few months.
I tried all different types of razors, brands and shaving creams during these months.  From my research, I realized that I did not really see much difference between the disposable razors and the fancy built-in shaving cream razors except for price.  The leading disposable razors range from $3.99 to $8.99 in price (depending on how many razors in each package) plus about $1.99 – $8.99 for a bottle of shaving cream.  The fancy built-in shaving cream razors cost about $12.99 to $21.99 (depending on how many razors in each package as well) which is a huge increase over the disposable brands.
My winners: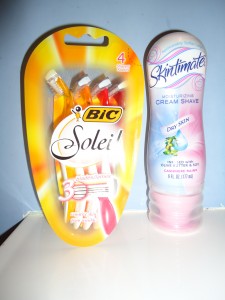 In my case, I was able to switch and "shave off" about $15/month of useless expenses.  This cost might seem small in a per month figure, but over the course of the entire year it will save you from throwing away about $180.  My goal is to just show you where you can save some dollars, decrease that love/hate relationship with Target and what you should include in your monthly budget.  I also am fully aware of the "you should buy these items in bulk to save money" philosophy as well, but what you do not realize is that you have to come up with the money up front to pay for a stock pile of razors which can easily blow your monthly budget.  Budgeting should be done monthly and you should really only be purchasing items that you will consume this month.  That will help you from over purchasing and letting $ pile up in items throughout your house.  Those items tend to go unused and add to monthly expenses that could be decreased.
Now have you done your product research?  What type and/or brand of razors do you purchase and why?