I wasn't lying when I said I had a lot of shoes in last week's post but the real debate over my shoe collection came this week when my boyfriend asked me why I was buying a new pair of Uggs to replace my old pair.  He wanted to know why I needed to buy new Uggs when I had perfectly good rain boots.  (read: he dislikes Uggs and finds them ugly which I cannot deny BUT they are so comfy!)
Let me explain something to you about my boyfriend: he has about 15 pairs of sneakers, he tells me that each pair goes with a different outfit, yet every day he wears jeans and a hoodie.  I cannot fathom why me having two pairs of winter boots is foreign to him but multiple sneakers for slight variations on one outfit is fine.  I would appreciate your input on what you would do in this situation because this should be a hands down win for me!
My reasoning behind having two different pairs of winter boots is this…
I wear my Uggs (or any other wintery boots for the sake of the debate) when it is cold out but I wear my rain boots when there is some sort of nasty weather going on in Boston.  They clearly have different purposes and it seems logical to me to have two pair but he still does NOT get it.  He thinks that I should be able to wear my rain boots all the time and not spend the extra money on replacing my Uggs.  I completely understand where he is coming from with spending the extra money but having two pairs with each serving a different purpose is a valid purchase in my book.   Am I wrong?
Here is the cost breakdown in my eyes:
My current Uggs are about 7 years old and they look it. They have been weather-proofed every year and I replaced the insoles in them last winter.  I love them and generally wear them all winter long.  I am especially thankful that I have them when I have to stand outside for multiple periods throughout the day waiting for our wonderful MBTA public transportation in Boston.  (When my feet are warm though, I really cannot complain.)  I probably spent $100 on these Uggs 7 years ago and about $35 for the insoles and treatment kit, so that is about $19/year for those boots.  Not a bad deal over the years… and I would without a doubt say that I got my monies worth on those boots!  In addition, the new pair that I found were on sale at City Sports for $105 from $140, so I felt obligated to buy them since they are on sale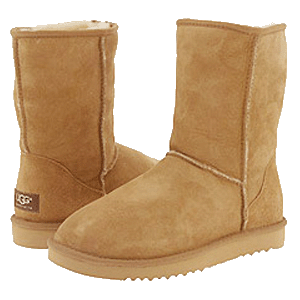 My rain boots are about 1 year old and I love them!  I felt like a dork buying them because I'm over the age of seven but they were the best purchase I made last winter.  I was living in Beacon Hill and the street was beautiful but in any sort of inclement weather it was hazardous to walk anywhere unless you had the right shoes on.  I would walk out of my apartment and straight into a current of rain/slush that whipped down the hill that I was living on.  At the suggestion of my roommate (a resident of Beacon Hill for the last 3 years) I took the plunge and bought a pair of rain boots.
She previously went through 3 different brands before finally dishing out the cash for a pair of these pricey Hunter boots BUT she was thankful that she did because they are the sturdiest thing on the block.  After taking her advice I'd have to agree with her!  I think in total I spent about $155 (boots and the fleece Welly socks) which is about $78/year and will decrease to $52/year the following year, etc. – the savings is in how long that you can actually keep the boots.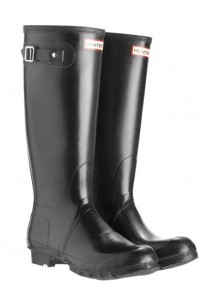 With that being said, I think both of these boots are great options and were a good fit for me.  Others might have chosen to purchase similar boots but I'd love to know if cost is a deterrent for you when making a purchase or do you think about the long-term benefits of the purchase?  Please fill me in on your opinion and let me know if I have won this debate with my boyfriend!