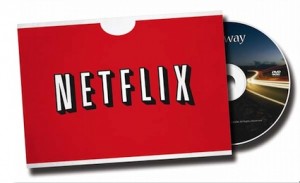 Now that the initial shock of "ohmygod, how dare they increase their prices by 60%" has worn off, how do you really feel about your Netflix subscription? I have to say that I think Netflix's concept is outstanding. In 1999 when Netflix first launched, it was a subscription-based digital distribution service that probably none of us were members of. Over the next decade, Netflix became a household name as a provider of on-demand internet streaming media. With over 10 million subscribers and over 100,000 of various movie and television titles for its customers to choose from and continuing to grow at record speeds.. why would you not subscribe to their services?
How does it work? Original, you would select what movie that you desired and that movie was mailed directly to your house in a neat little red envelope. When you were done watching the movie, you just popped it back in the mail in the same envelope and Netflix would send you the next movie in your queue. No due dates, no late fees, no shipping and handling fees and no trips to the movie store – just a flat-fee unlimited rental service straight to your door. Then, Netflix expanded on their original business model and started offering instant streaming of movies and television shows online over the Internet through their "Watch Instantly" option. This was a big step for them, but despite current contracts, a lot of the streaming selection is limited and outdated. (note: still a win on some levels as I got to see every episode of Arrest Development start to finish – highly recommend it if you haven't seen it yet!)
So what's the fuss all about? With Netflix announcing that as of September 1, 2011 there will be new price changes for its existing customers. The price plans would essential be a 60% price increase on its combination DVD and streaming plans that were mentioned above. Now, I believe that its completely understandable that the price of Netflix's services were bound to go up at some point due to new licensing agreements and the company wanting to add more and more titles to its impressive collection, but 60%?!? How does this break down for the everyday person? Just think about it this way..
If you subscribe to the "Watch Instantly" streaming only, it $7.99/month x 12 months = $95.88/year.
If you subscribe to the "Unlimited DVDs" only (one DVD at a time), its $7.99/month x 12 months = $95.88/year [$11.99/month for 2 DVDs at a time]
If you want both the "Watch Instantly" and "Unlimited DVDs" (one DVD at a time) together, its $15.98/month x 12 months = 191.76/year [$19.98/month for 2 DVDs at a time, $23.98/month for 3 DVDs at at time and $29.98/month for 4 DVDs at a time]
Or a limited plan of 1 DVD out at a time with a limit of 2 rentals per month, its $4.99/month x 12 months = $59.88/year.
None of these plans seem significantly outrageous to me. I guess the question is personal though, how many DVDs do you actually watch per month? Would the price that is stated be worth your money? In our household, my fiancee and I were living in separate states for a few months while we sorted out our move. Since he works odd hours, he would generally watch a movie when he got home from work. I did not have a DVD player at my place, so I generally used the "Watch Instantly" feature on my laptop. For us, we had the Unlimited streaming plus Unlimited DVDs 3 out at a time. This worked great for us at the time, but given the price increase and the fact that we are actually living under the same roof once again, we have decided to drop our package to Unlimited streaming plus Unlimited DVDs 1 out at a time. It seems more economically sound for us and still allows us to request the movies that we would like to see that are not yet offered in the "Watch Instantly" feature. That is the plan that fits our budget and will satisfy our entertainment needs! What about you? Have you changed your Netflix subscription at all? Did you outright cancel it?
UPDATE on 9/22/11:  Eddie was right, he had a feeling that this was just the beginning of more changes that were going to be coming to Netflix!  This past week, Netflix announced that it will split into two companies.  Netflix will still manage their online streaming network and a new division will manage their DVD services called "Qwikster."  I feel that a split is NOT the end of the world and maybe it will allow each company to focus more on the needs of their customers.  On the plus side, there were no additional price increases with this announcement, just the confusion over having to now manage two accounts and have two charges on your statement for each service.  Does anyone feel as if this will make them re-evaluate their services with Netflix?  Will this lead to more cancellations?  Any other options to use for these services?  I would suggest Redbox since I am a financialite, but I have to say that I continuously forget to return the damn DVDs and always get charged a little extra each time I rent there.  I prefer Netflix as I can just drop them in the mail and be done with it!