People have said that owning a pet before having children is a good learning experience to see if you will be able to handle the responsibility of children.  I agree with this concept and think that owning a pet is a HUGE responsibility (those of you with children are probably laughing to yourselves and thinking "boy, is she in for a treat later in life…"). So owning one pet would be a huge responsibility, right?  Well, welcome to our house or what we like to call "the Zoo."  In our household, we have 4 adults, a Doberman, a Boxer and two adorable cats.  I turned to the ASPCA for help with what the annual and capital costs are to own a cat or dog to see how they compared in costs to each other.
My contribution to the Zoo is these two adorable cats (insert crazy cat lady joke).  I like owning cats because they are low-maintenance and can be alone for a night without an issue.  My cats are brothers and have rather different personalities.  One likes to be in your face and cuddle with you, while the other is very mellow and likes to sit at your feet.  Our monthly costs for both includes food (dry and wet food because they are spoiled), cat treats and litter.  In addition, they go to the vet about once a year for shots.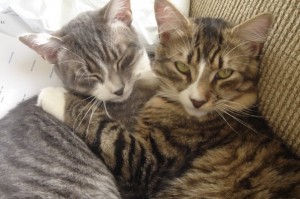 On the other hand, my boyfriend is the proud owner of the Doberman – who is a 100 pound lap dog who will stand by your leg and violently push you over until you scratch his back.  Then he will be your best friend until you are sick of petting him and he'll walk away for 2.5 seconds and come back as if you forgot.  He is truly a happy puppy and loves playing with the cats.  Our dog costs are very similar in nature to our cat costs, but instead of the cat litter, we get them poop bags.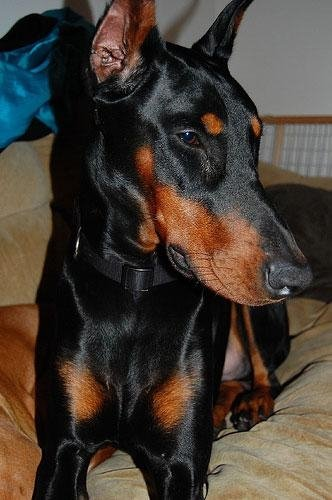 If you are thinking about owning a pet, it is good to break down the costs into what you would pay annually for your pet.  While people may have differing opinions on whether or not you can put a price on your pet, it is just to show you in realistic terms what you are paying to have your companion.  In addition, our costs of owning our cats and dog are slightly different than the ASPCA's chart because we spoil them and buy them lots of toys!  Here is the ASPCA's breakdown of the annual and capital cost of owning a cat versus owning a large dog:
ASPCA's Pet Care Costs for Cats
ASPCA's Pet Care Costs for Large Dogs
Annual Costs
Annual Costs
Food
$115
Food
$235
Recurring Medical
$160
Recurring Medical
$260
Litter
$165
Toys/Treats
$75
Toys/Treats
$25
License
$15
Health Insurance
$175
Health Insurance
$225
Miscellaneous
$30
Miscellaneous
$65
Annual Total
$670
Annual Total
$875
Capital Costs
Capital Costs
Spay/Neuter
$145
Spay/Neuter
$220
Other Initial Medical
$130
Other Initial Medical
$70
Litter Box
$25
Collar/Leash
$35
Scratching Post
$15
Crate
$125
Carrier
$40
Training Classes
$110
Capital Total
$355
Capital Total
$560
First Year Total
$1,025
First Year Total
$1,435
Based on the ASPCA guidelines, the first year cost of owning a large dog is about $400 more than the costs for a cat.  I would think that the costs would be pretty similar to each other based on how much you spoil your pet.  It's crazy to think that your pet could cost you upwards of $1400/year.  That's about $117/month for your pet. Do you think about all the hidden costs of pet ownership when you are making your monthly budget?  If you think that the cost of owning your pet is significant, I think it should be included in your monthly budget.
Note: if you would like to see the ASCPA's full breakdown of Pet Care Costs, please visit their website to see how they developed their amounts.