Is balancing your checkbook an out-dated process?  Does anyone actually do this anymore?  Balancing a checkbook is something that I remember my parents diligently doing when I was a child.  I can remember some Sunday nights when my father would sit down with all the bills, the checkbook registers and the bank statements to make sure everything balanced to the penny.
The concept of why one should keep a check register or something of the sort needs to be clearly understood.  If you do not understand the importance of why you are doing something, then you honestly will not put the effort in.  The biggest advantages of having a check register are that you can verify what you think you spent to what the bank has on record for you, you can ensure that you actually have money in your account to avoid any overdraft fees and if you ever need to go back to a specific transaction you actually have a record of it without having to dig too much.
I, however, do not spend a single Sunday or any other day for that matter sitting down with a check register and hand writing out everything that I spent.  I have too many bank accounts for that to even make sense for me.  Should you only have a single bank account and run all your income and expenses through it, then keeping a traditional check register would be a valid way to track what you are spending.  If you did want to keep a traditional check register and do not know exactly how to do it, WikiHow spells it out for you in easy to understand steps.
For those of you with multiple bank accounts, this is what I would suggest that you do… keep track of your receipts for anything that you buy.  It seems like a very simple idea, but people struggle with it.  I find it rather easy to take the receipt from the cashier, fold the receipt up and place it into my wallet since I always carry my wallet.  At the end of the week/month, I will take the receipts out and put the receipts into envelopes marked with which account or credit card I used to make the purchase.  Then at the end of the month, I match my receipts to what the bank and/or credit card company cleared in my statements.  If you want to do it with hard copy statements, just put a check mark next to each transaction on the statement to ensure that it was accurately recorded by the bank. Once everything cleared, you are free to get rid of the receipts unless the receipt is for a large purchase (generally something with a warranty attached to it) or it is necessary for your taxes.
If you do not receive hard copy statements or prefer to do it online, I would suggest using a FREE service like Mint.com to compare your receipts to what the bank and/or credit card company recorded for you.  All you need to do is go to the transaction tab and click on the account that you want to see on the left hand side.  Then you can compare your receipts to what the bank and/or credit card company recorded for you!  The main advantage that I see in using Mint.com is that it automatically pulls all of your financial information into one place.  It is virtually a "snap shot" of your finances without having to go to each site and look at the individual balances.  Another advantage is that if you are tech savvy, you can download an app for it on your phone (iphone and android) for convenience while you are away from your computer.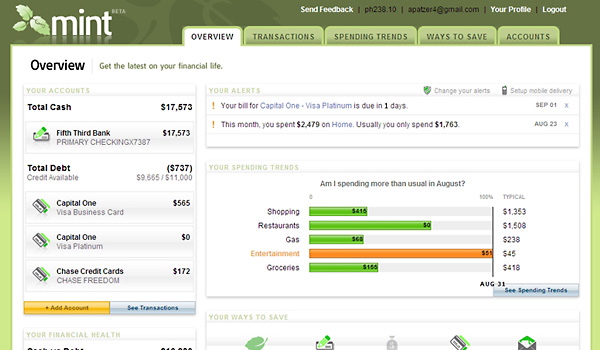 Again, Mint.com is FREE. There are tons of tracking systems like Quicken and Quickbooks that cost money – but this is FREE!  If you haven't checked it out yet, I would suggest you watch the video below on how it works.  I recommend the site to all my clients and it only takes a few minutes to set it up, integrate all your bank accounts/credit cards and set up a monthly budget.  The best part about the site is that it sends you reminders of when your bills are due – "nobody likes bills, but late fees are even worse" is my favorite email!  You can also set up alerts that will tell you when balances are low in your account, when you are over your budget and a weekly snapshot of where you stand going into the weekend.
Have an experience with Mint.com?  Please let me know about it in the comments!