I went to a Catholic high school and enjoyed my days in a plaid skirt and oxford shirt but when I went to college my wardrobe expanded immensely. I'm not sure how it happened but I started to love clothes and accessories! I literally bought anything and everything that looked good on me – until my closet and drawers would not take another thing. I was/am a clothes hoarder!
This actually went on for years and only until recently did I have to scale back (read: I moved in with my boyfriend and had limited space). I had to determine what I actually "needed" in my wardrobe and not what I "thought I needed". I had to sit down and actively go through every piece of clothing in my entire room and determine what would make the move and what would be purged. I felt like one of those people on the television show "Hoarders" as I started to feel attached to certain items. Then I came to terms with what I was actually doing and started to make it interesting. I found a great place called Buffalo Exchange (now in Allston and Somerville) that will buy back your clothing from you – keeping in mind that someone will pay me for my clothes made me more realistic in getting rid of items. (See how it works) My mentality was that if I could get a few dollars for an item, then get rid of it! It made the attachment to clothes start to fade away quickly. In addition, anything that Buffalo Exchange did not purchase from me – I donated to Goodwill in hopes that it would be passed along to someone who would appreciate it!
Once I purged through all my clothes I was ready to make the move. In my new apartment I have a tall wardrobe style closet and a full dresser of six drawers. I needed to figure out the best possible way to get everything I wanted into that space without spending a lot of money. I started looking into an easy way to organize my clothing and accessories to make the most of my living space. The best finds that I purchased were hanging sweater bags, slim felt covered hangers and a hanging jewelry organizer.
The Container Store is addicting to me and here is what I found to help me organize with the limited space that I have:
Hanging Sweater Bags $19.99 – I have two shoe organizers (read: I probably have too many shoes, but hate to part with them!) and two sweater organizers (one organizes sweaters and one organizes my work pants and jeans). These bags hang from inside my tall wardrobe style closet and I am able to see all my sweaters, work pants and jeans. If I can see what clothes I own, hopefully I will resist the urge to buy more!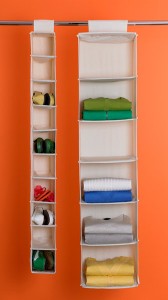 Huggable Hangers $9.99 – These slim felt covered hangers do not take up much room at all and I'm able to hang up all my cardigans, dresses, etc. in the limited space that I have. They are also fantastic because my clothes tend to stay on the hanger better than your average hanger.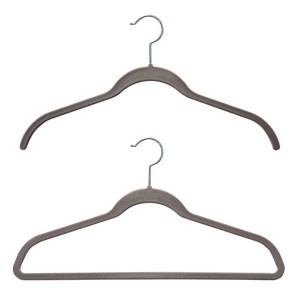 Canvas Hanging Jewelry Organizer $24.99 – A girl needs to accessorize and if everything is thrown in a drawer, its easy to forget about what you actually have. This organizer is amazing and hangs on the outside of my wardrobe so that I can see all my necklaces, bracelets and earrings with ease.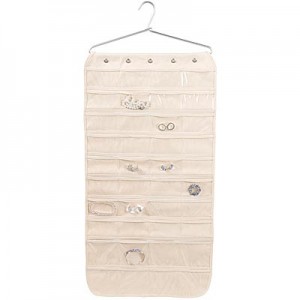 These are just a few cheap ways to organize your closet. Having an organized closet will help you see what you actually own in your wardrobe and will stop making you feel like "you have no clothes!" This will hopefully deter you from making unnecessary purchases of clothes you do not need.. and help you to play around with what you already own. Then determine what you "need" to complete your wardrobe

Do you have any other great ideas for organizing your closet? Please feel free to share them with me – I'd love to see what others are doing with their limited space!