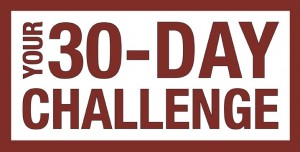 I will have to admit – I'm a people watcher.  I love to sit and watch people and see what outfits they have on.  I tend to covet certain items that other people have – sort of like when you are out shopping and someone picks up an item, I just have to watch them and read their thoughts.. did they like it?  Why did they put it down? etc.  I tend to keep a notebook and jot down fashion ideas that I like and want to see if I can seek out – a new trench coat, pair of brown boots, etc.  Usually its whatever the trend of the season is and I like to see if it will be a staple in my wardrobe.  By writing my ideas down and revisiting them later, I am evaluating whether or not I really need an item.  Can I live without it? Sure, but do I want to?
This translates outside of the latest fashion trend though and will work for any "big ticket" item that you are currently contemplating buying.  It can be used with the general "30 Day Rule" in personal finance to help you curb your impulse buying.  The "30 Day Rule" is if you are considering a major purchase, you should wait at least 30 days before making the actual purchase to ensure that it's a necessary purchase.  It will help you to take a step back from the urge to purchase and see if it's really something that you cannot live without.
For instance, I was looking at new computers over the weekend.  My computer is not broken, but it is a smaller netbook and I would like to upgrade it to a full sized computer as I am not traveling so much with my computer anymore.  I went with my computer savvy boyfriend to Best Buy and looked at my options.  It was good to look and take in what is available to me… then I walked away from the situation.  I'm still thinking about my options, but I'm not making an impulsive decision as that is when you can get yourself in over your head.  The best solution to this is to research all your options and then take a step back and see if you still have the urge to purchase the item.  At this moment, I still have not purchased a new computer but its still on my back burner.  The urge is still there, but I have not found exactly what I'm looking for yet!
Another factor that I always use when purchasing a "big ticket" item is to calculate how many hours I need to work in order to purchase the item.  If the amount of hours is overwhelming to me, then I might need to rethink that purchase.  There are far too many things in life that I have purchased over the years that just tend to sit after the novelty has worn off.
Are there any tricks that you use to justify a "big ticket" item?  Has the "30 Day Rule" worked for you?